Building Health Inside and Out
Our homes and workplaces should be sanctuaries that promote health and harmony in our lives, not illness and unrest
What we expose our bodies to in the form of nutrition and from our environment is critical to our long term health.  As a qualified Nutritional and Indoor Environmental Health Practitioner (Building Biologist) this is my focus in helping people to achieve optimum health.
We spend on average 90% of our time indoors (The National Human Activity Pattern Survey), and my focus is to consider what is happening in homes and workplace's relating to environmental toxins, nutrition and lifestyle.
I want to help create a world where we all live our healthiest and happiest lives, using the most natural approaches to human health…which in turn will support the health of the natural world
We all deserve to live with optimum health which I believe should be driven by how we live, work and play in our homes, workplaces and schools.  I also have a passion to support the health of the environment, which is fundamentally linked to our health.   Simply, if we eat organically produced foods and don't use plastics this has benefits for our health and the environment.  When it comes to climate change, increased temperatures are already resulting in worsening air quality, allergenic plants grow better, smoke from wildfires are very damaging to human health and as this imbalance continues to worsen there will be an increase in insects such as mosquitos and ticks carrying infectious diseases and so much more.
My combined qualifications of Nutrition and Building Biology allow me to look at the whole person, and whole life in uncovering underlying causes for health problems.  I developed a framework called Building Wellness which combines 3 pillars to help create optimum health.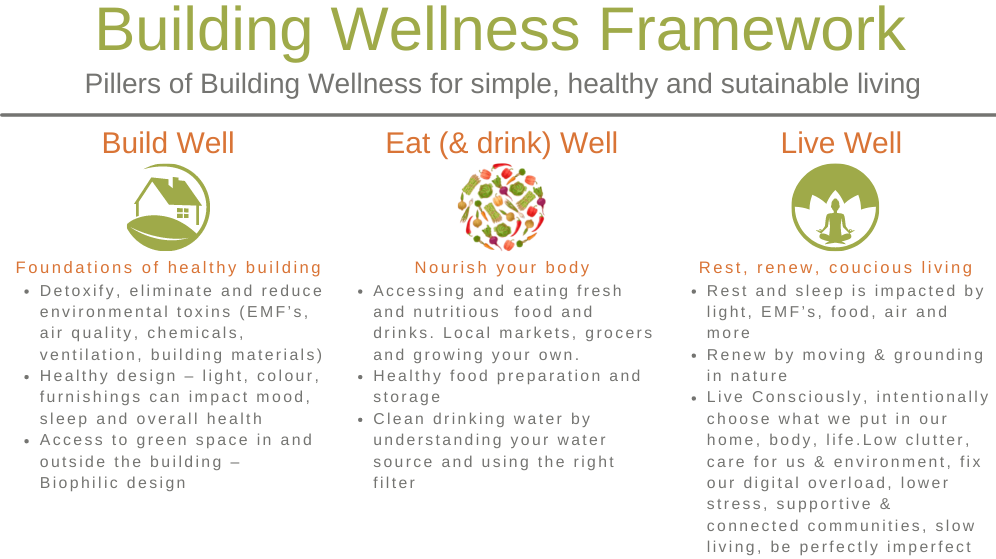 Our health, energy and vitality can be hugely impacted by our homes, workplaces and schools – what they're made of, what surrounds them, what we bring into them and how we live and work in them.  This has become increasingly important since early 2020, as many people have undoubtedly been spending more time indoors.  As a nutritional and environmental health practitioner I've heard so  many people comment on how symptoms improve or disappear when they're away from their homes or workplaces. Read more about Building Wellness here.
The aim is to create natural indoor sanctuaries, that make people feel as energised as they would in a natural outdoor environment.
Is your home or workplace causing your health issues?
Do you suffer from headaches when you're at home or at work? 
Do you get unexplained fatigue? Do you wake after only a few hours of sleep? 
Do you suffer from ongoing colds or flus?
Do you have ongoing gut problems?
Do your health problems improve when you're away from home or work?
Need to know more? Book an appointment